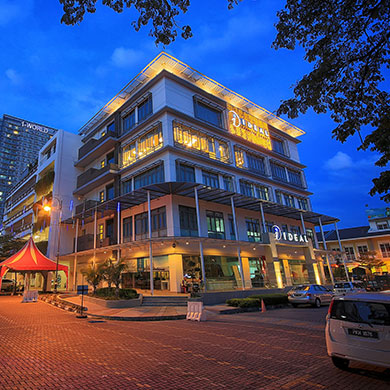 Welcome
Welcome to Ideal Property Group – one of Malaysia's leading property developers.
When it comes to building quality, inspiring homes at affordable prices, we create legacies. For nearly two decades, we have delivered highly successful housing developments built upon our expertise in the Penang property market – setting the benchmark in award-winning, eye-catching and highly vaulted developments that have redefined many horizons on our motherland.
Driven by our motto, "Creating Legacy", Ideal Property Group takes a fresh, innovative and creative eye towards property development. As one of the top leading developer in Penang, we focus on high-value Malaysian properties that appreciate over time and offer a unique lifestyle experience.
Whether in generating ideas, designing or planning for a new project, we ensure the timelessness of each property development through creative and sustainable features that have made our developments the attractive and well-built properties they are today.
Read More
Latest News
Malaysia's First Virtual Mall to Launch in Q3

Another milestone for Ideal United Bintang International Berhad (IUBIB) with the completion acquisition of 1st Avenue Mall and towards the 1st virtual mall in the […]

CMCO: YB Jagdeep and Mayor visit to Imperial Grande

Penang Local Government, Housing, Town and Country Planning Committee Chairman YB Tuan Jagdeep Singh Deo and MBPP Mayor Datuk Yew Tung Seang made a surprise […]

Ideal United Bintang to develop PR1MA project

GEORGE TOWN: Ideal United Bintang International Bhd (IUBIB) will develop RM828.6mil worth of property for the 1Malaysia People's Housing or PR1MA programme in the fourth […]
Recognition & Awards
2019

iProperty Development Excellence Awards (iDEA) 2019

Penang International Exchange (PIX), Winner of the 'Best Northern Development (Future)'.

2019

iProperty Development Excellence Awards (iDEA) 2019

Ideal Property Group, Best Developer in People's Choice Award.

2019

Asia Pacific Property Awards 2019 – 2020

Queens Waterfront, Winner of Mixed-use Development Malaysia.

2019

Property Insight Prestigious Developer Awards 2019

The Amarene, Winner of the 'Best Family Centric Development'.

2019

Property Insight Prestigious Developer Awards 2019

Queens Waterfront, Winner of the 'Best Luxury Lifestyle Development'.

2019

Property Insight Prestigious Developer Awards 2019

Queens Waterfront, Winner of the 'Best Leisure Waterfront Development'.

2019

Property Insight Prestigious Developer Awards 2019

Ideal Property Group, Winner of the 'Best Philanthropic Award'

2019

Property Insight Prestigious Developer Awards 2019

Ideal Property Group, 'Top 10 Developer' of the Year.

2019

Asia Property Awards 2019

I-Santorini, Winner of the 'Best Mass Market Development (Penang)'

2019

StarProperty.my Awards 2019

The Amarene, Honours Winner of 'The Family-Friendly Award'